Whether you're looking for contemporary design, a vibrant location for a city break or a historical gem, you'll find a perfect match in the Martin's Hotels group portfolio.
At Martin's Hotels group, we are proud to showcase our 12 unique and highly individual properties. Each hotel, restaurant or spa is full of character and designed to provide guests with memorable experiences in the heart of 9 Belgian cities.
Enjoy a romantic getaway in a signature hotel from our Heritage collection, keep the whole family entertained with a stay in our City range or ensure your business trip is a success in the versatile and ultra-connected setting of one of our Lifestyle hotels. Simply choose and we'll do the rest.

Restaurants
Martin's group has 6 top restaurants ready to welcome you in 6 cities across Belgium. From the antique decor of the former Schweppes bottling plant in Genval.Les.Bains to the contemporary setting of B'Comme in Louvain-la-Neuve and the renovated church with a modern twist at Bistro Martin (Mons), each of our restaurants is a truly unique dining experience.
Or perhaps you prefer the refined atmosphere of the Akko a few steps away from Alden Biesen castle, each of our restaurants offers diners an out of the ordinary experience, be it for a romantic dinner, a business meal or a special treat with friends or family. Our restaurants bring an additional touch of refinement to your stay with us.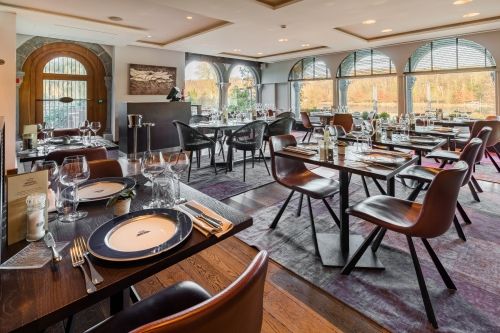 Spa & fitness
Head to the shores of Lac de Genval and experience a heavenly moment under the signature Swarovski starry sky over the thermal baths at Martin's Spa Fitness & Wellness.
Perhaps you prefer the natural charm of the Martin's Rentmeesterij spa, with its thermal baths overlooking trees and gardens? Or ease your worries by opening the doors of Martin's Dream, whose wellness area and private spas are housed in a renovated church in the historic centre of Mons.
There's no need to stop your fitness routine while you're attending a family event or business trip.
Simply select one of our hotels that have spa and fitness centre facilities.
From our well-equipped centre at Martin's Spa Fitness & Wellness to our Martin's City Spa, we can help you burn calories and stay in shape whatever the occasion.